Eufy's all-seeing smart home cams can shoot your videos from multiple angles
bose soundbar, rel sub, En İyi Ev Ses Sistemi, Ev Ses Sistemleri Online, müzik dinlemek için en iyi hoparlörler, ev stereo sistemi bileşenleri, Satılık Müzik Seti
Smart home brand Eufy is introducing a new series of "dual-camera devices" with most sporting a wide-angle and telephoto lens setup powered by artificial intelligence. In total, you have four models: the SoloCam S340, Floodlight Cam E340, IndoorCam S350, and the Video Doorbell E340.
Starting with the headliner, the SoloCam S340 is the outdoor camera option capable of shooting video in 3K resolution (2,880 x 1,620 pixel) with a wide-angle lens. The quality drops down to 2K resolution (2,304 x 1,296 pixels) on the telephoto, but it makes up for this by offering "8x hybrid zoom". What's interesting about the SoloCam is it can turn a full 360 degrees as well as tilt 70 degrees. 
Pair that up with the wide-angle lens' 135-degree field of view and you can pretty much have this model watch your front yard by itself. Hence the name: "SoloCam". Plus, you don't have to worry about finding an outlet for it because it comes with a mini solar panel. Two hours in the sun gives you "all-day power". As the cherry on top, it has full-color night vision.
The Floodlight Cam functions similarly since it can also record videos in 3K resolution and pan 360 degrees. There are some key differences between the two. Obviously, as the name suggests, it has a big floodlight on the front capable of emitting light at a brightness of 2,000 lumens. The device, unfortunately, lacks a solar panel, requiring "hardwired installation with [the] AC 100V – 240V" power supply.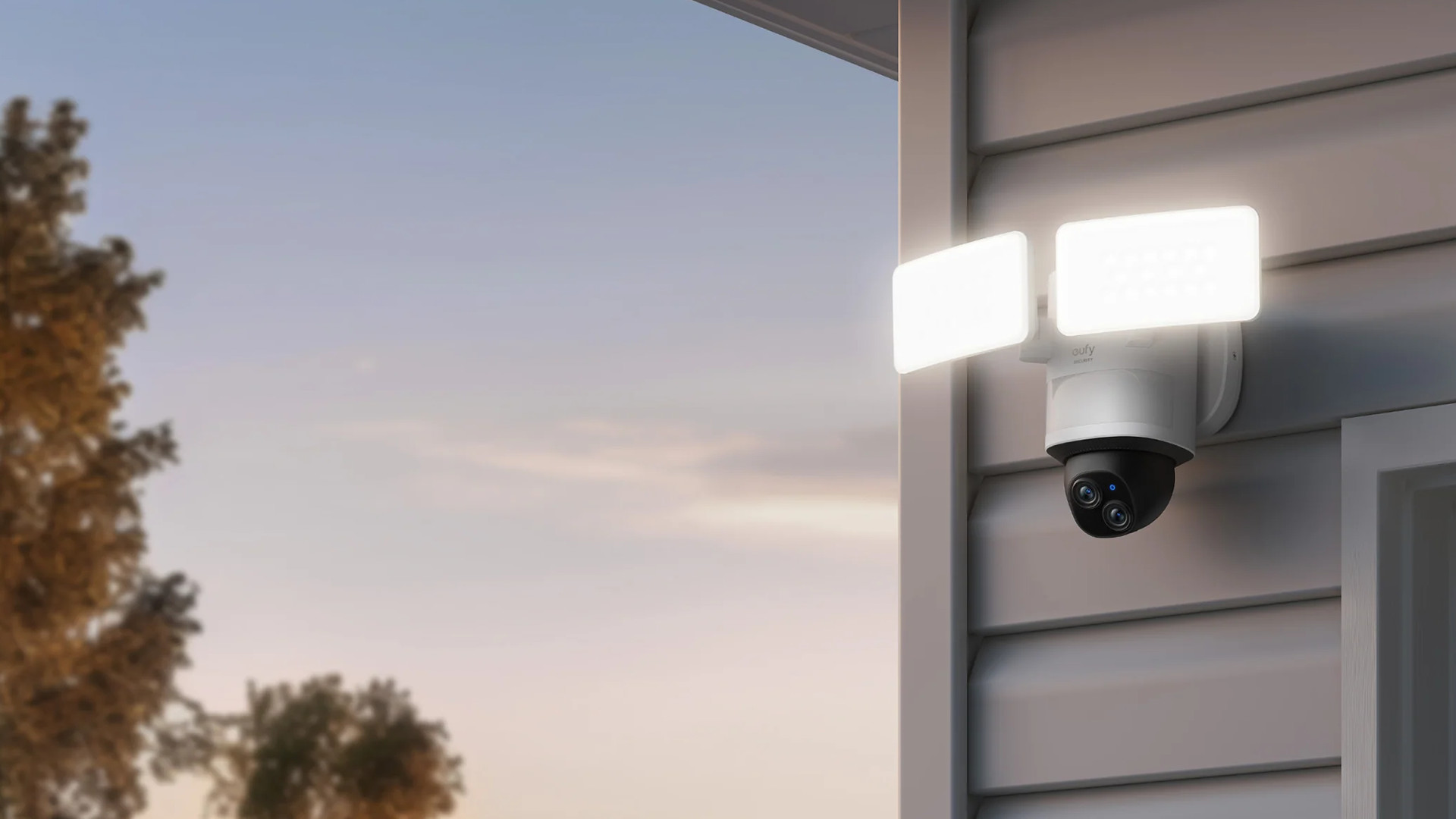 Indoor options
Next is the IndoorCam S350, which may be the best-performing of the quartet. First off, it can record in 4K Ultra HD resolution (3,840 x 2,160 pixels) through the wide-angle lens. Like the others, the telephoto lens shoots in 2K as well as rotates 360 degrees on a pivot. What sets the IndoorCam apart are its AI-powered features. 
You have Smart AI Detection to automatically track and zoom in on important subjects like kids or pets. There's Quick View allowing users to "set frequently viewed areas with customized zoom levels." So if you want to see if your dog is in their bed, the IndoorCam can snap over for a look with this function.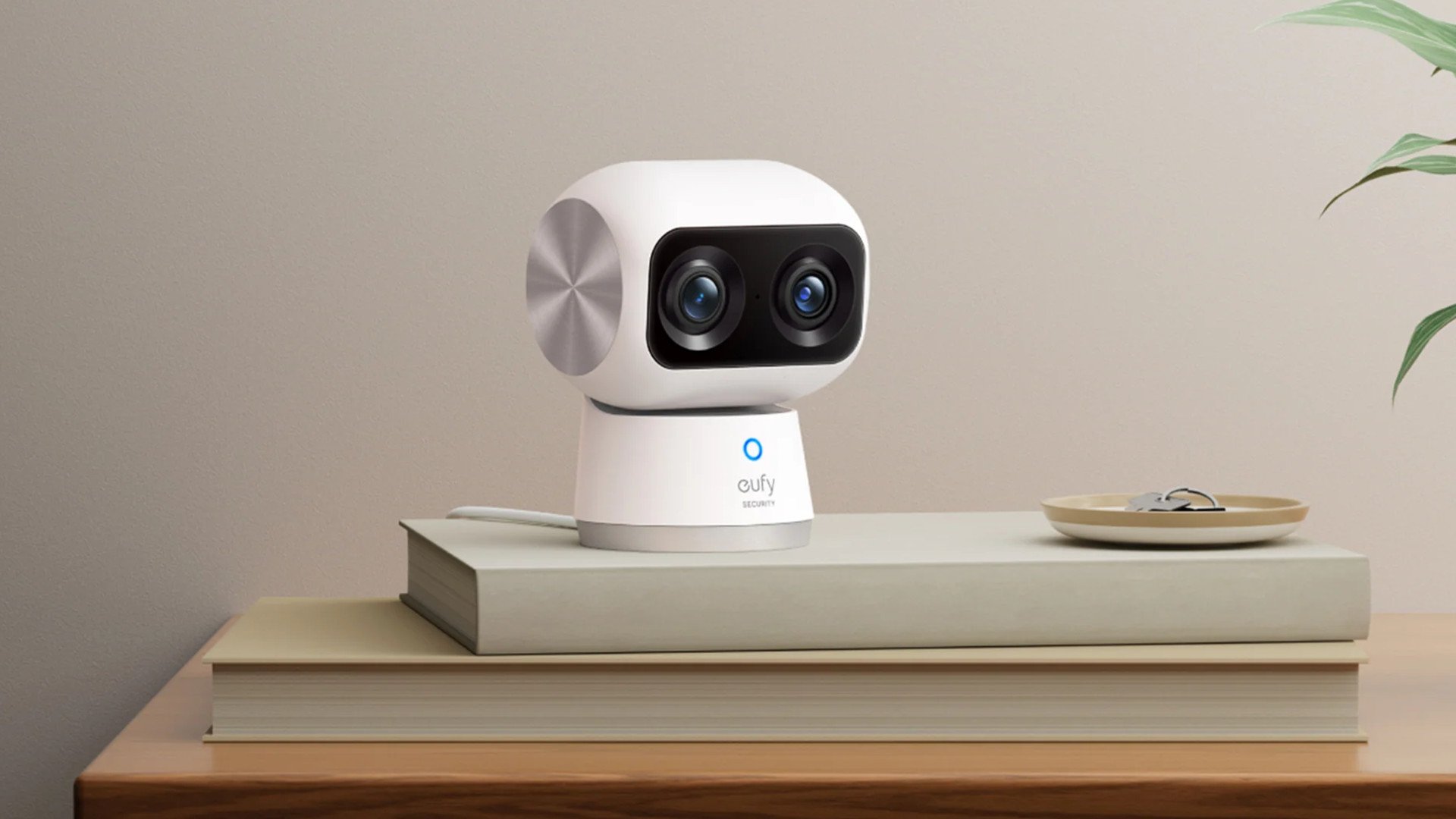 Then finally, we have the Video Doorbell E340. This model lacks a telephoto option. It's been replaced with a "Package" lens facing downwards so you can see if there are any items on the ground. The wide-angle is still there shooting in 2K resolution while the Package lens records in 1080p (1,920 x 1,080 pixels). It does have color night vision like the SoloCam with a couple of lights for illumination.
Cross-Camera Tracking
Despite all their differences, there is a major throughline connecting all the cameras together: Cross-Camera Tracking. It's an AI-powered feature that lets you merge clips from multiple cameras, from the IndoorCam to the doorbell to SoloCam outside, into one continuous video in chronological order. It tracks individuals or events seamlessly. 
Say a burglar enters your house and then steals a laptop or something. You'll know exactly where they went with no blind spots. There is a catch: you will need to purchase the HomeBase S380 smart hub in order to combine the clips.
Eufy's "Dual Camera Family" is on sale at the company's official website. Prices range from $129.99 for the IndoorCam to $219.99 for the Floodlight Cam. For other options, check out TechRadar's list of the best home security cameras for 2023. 
You might also like
The best cheap home security camera sales and deals for September 2023
Best smart home devices 2023: automate your home with these gadgets
In the smart home of 2023, it turns out Matter simply doesn't matter
En İyi Ev Ses Sistemi,
Ev Ses Sistemleri Online,
müzik dinlemek için en iyi hoparlörler,
ev stereo sistemi bileşenleri,
Satılık Müzik Seti

stereoguide-referencehometheater-techradar